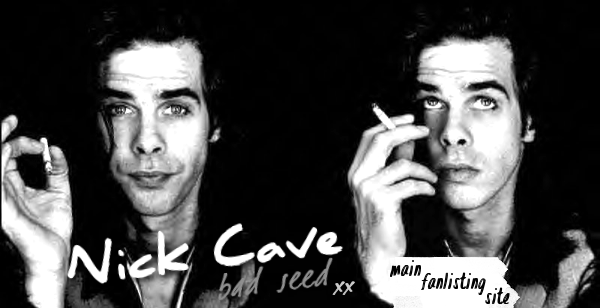 Welcome to Bad Seed, the fanlisting for musician Nick Cave! I have been a Nick Cave fan for a very, very, very long time, and am very excited to own this fanlisting. Nick is frontman of Nick Cave and the Bad Seeds, and I love the group, but it's Nick that I'm the biggest fan of. A fanlisting is a list of fans from around the world stating that they are a fan of a particular subject. In this case, that subject is Nick Cave, so if you are a fan like I am, join up!





Online since: June 30, 2009
Last updated: June 17, 2021
# Fans Listed: 20
# Pending: 0
Newest members: Scarlet
Category: Musicians: Male
This site is part of: TheWildRose.org

©2009 Christine

I'm not affiliated with Nick Cave in any way, nor can I get in contact with him. I am just a fan showing my appreciation.