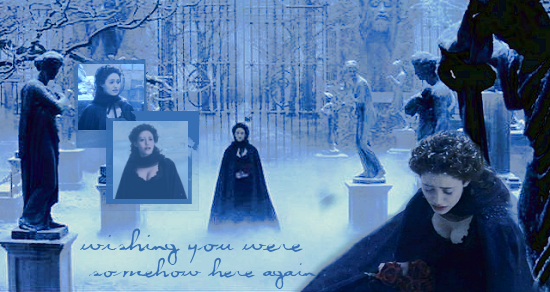 main & codes & join & update & fans & extras

Welcome to Memories, the fanlisting for the song Wishing You Were Somehow Here Again, from the beautiful stage musical & 2004 movie The Phantom of the Opera! This is one of my favorite Phantom songs, and while it's both beautiful & sad, this is the scene where Christine realizes that she must let go of her deceased father, pleading with him to help her to be able to say goodbye to him. A fanlisting is a list of fans from around the world stating that they are a fan of a particular subject. In this case, that subject is Wishing You Were Somehow Here Again, so if you are a fan like I am, join up!





Online since: February 8, 2008
Last updated: October 01, 2021
# Fans Listed: 92
# Pending: 0
Newest members: Brooke
Category: Songs: Various
This site is part of: TheWildRose.org
Adopted from: Mary


©2008 Christine

I am not affiliated with Emmy Rossum, Andrew Lloyd Webber, Joel Schumacher, or The Phantom of the Opera in any way, nor can I get in contact with anyone involved with the movie. I am just a fan showing my appreciation.